Halloween cards are the thought for the moment! Kids, grandkids, and even those grown-ups who are "still kids at heart" love fun cards for Halloween. And to make it easier for you to choose your cards this year, we're highlighting some of the cute, spooky, or just plain awesome cards that we've run across at Zazzle.
Halloween Card--Scarecrow Girl--Happy Halloween
We're proud to say that this fun card was created by one of our very own bloggers here at Cool-Findz! But, least you think we're bragging, we won't say much more except to tell you the outside of the greeting card features a smiling scarecrow girl and the words, "Happy Halloween." The inside verse says, "Hoping you get treats that make you smile."
Ghostly Boooo Cards
Here's a fun card that's great for younger children, with a design that's more cute than scary. It's just right for those trick-or-treaters who need a little less scare and a lot more fun. The outside features a ghost saying "Boooo" and the inside is blank for your own personalized message.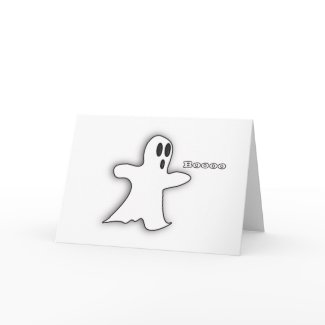 Ghostly Boooo Cards
by
SeptemberSunshine

Halloween Squirrel Post Card
Kids and adults that enjoy nature photos will love this Halloween post card. It features a squirrel sitting in a basket of fall gourds and the verse says, "Trick or Treat!" Who can resist a squirrel looking for treats?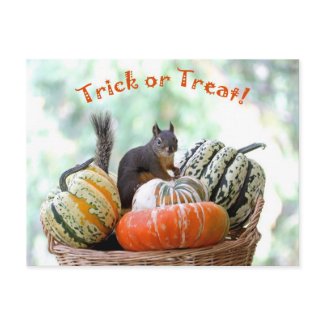 Halloween Squirrel Post Card
by
funnaturephotography

Witch's Stripy Socks Photo Card
This is such a cute concept that we couldn't help but it. And mostly, because it made us laugh! The photo card features the stripy socks of three witches and will tickle anyone -- kids and adults alike -- who receives it!
Cemetery Sunset Happy Halloween Card
Great for teens or adults, this card is spooky, yet cool at the same time. And the fact that it's designed by another of our own Cool-Findz bloggers makes it even better. The outside shows an old cemetery and the inside has a spider web and verse that says, "Happy Halloween."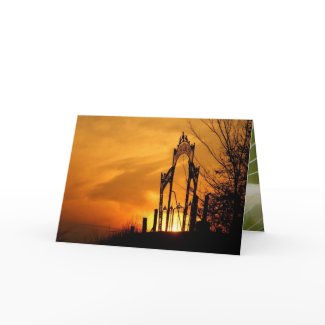 Cemetery Sunset Happy Halloween Card
by
MistyDawnS
The photo cards and post cards above are a great way to go because they cost less to purchase and mail. On the other hand, it's always fun to send a greeting card that can be displayed on the mantel or coffee table. The greeting cards have versatility since you can usually purchase them as a smaller note card, which costs less. And even better yet, Zazzle is running a sale ...



(Disclosure: The articles at this blog may contain links, that upon purchase of the item, creates a small referral payment for the authors. This payment in no way affects the opinion of the authors. Recommendations are based on our positive feelings and opinions toward the products.)